Written on April 22, 2010 by LoLo
Filed Under: Kim Zolciak, NeNe Leaks, The Real Housewives of Atlanta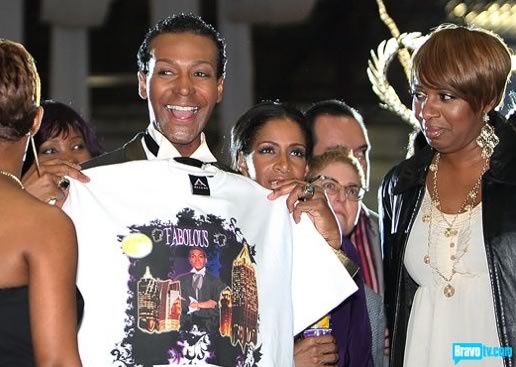 Dwight Ebanks, Nene Leakes and Kim Zolciak of The Real Housewives of Atlanta, all got into it recently. Radar Online reports:
"Dwight was at the hotel for what he thought was going to be a casual meeting," the source tells RadarOnline.com "But instead the producers had their own plans as they brought in Kim and NeNe to confront Eubanks about several issues, only for Dwight to call them out. NeNe and Kim came storming into the hotel and got straight in Dwight's face, accusing him of spreading lies about them and making up rumors.
"It was absolutely crazy! NeNe and Kim were both screaming at him, and he gave back as good as he got. Dwight started yelling at NeNe that she was nothing but a common prostitute and that she had hooked up with a married man, and he totally trash talked Kim too.
"NeNe lost her temper and attacked Dwight with a chair, breaking off a leg and Kim threw a vase at him! It was like a scene out of some crazy movie!" Security rushed over and had to split them up, then NeNe and Kim stormed out."
Show insider, Jonathan Jaxson tells RadarOnline.com that there has also been word that a lot of the establishments in Atlanta have not been welcoming of the cast and have banned them from their venues, making it hard for producers to film the show. Source
Really people? How old are you? Publicity, fame, money or whatever…this is an epic fail.
Follow me on Twitter @ManifestoLo!
Share on Facebook